Do you ever feel like there are days that you think to yourself at least 5 different times, "I wish there was an easier/faster/cheaper way to get this done!"
Or maybe you think that several times a day, every single day! (I definitely do!)
Just in the last year we have purchased or have been gifted these household appliances that have made life SO much easier, and we have saved a ton of money! Most of these are eco-friendly and energy saving as well, which is putting us on track to be a much greener household. That's been something weighing on my heart and conscience lately.
None of these products are what you would consider "cheap." You have to go into these purchases looking at them as investments that are going to bring positive changes to your family's lifestyle. That might sound a little bit dramatic, but I'm absolutely serious when I tell you that they have changed our lives for the better.
This post contains affiliate links. If you make a purchase after clicking a link in this post, I may receive a commission, at no extra cost to you. I picked these products to share with you because I love them and they have all made my life easier and saved my family a lot of money!

There are a couple of different color options of the Nest Thermostats, but the one shown above is what we have. We love the stainless steel style and we found it on sale! The Nest Thermostat E is a more affordable version (almost $100 cheaper) with most of the same features.
So what's so amazing about Nest? This thermostat connects to WiFi and is aware of the weather, time of day, and accessible via a mobile app. Did you go out of town for the week and forget to adjust the temperature to save money while no one is home?? No problem! Use your Nest App anywhere to adjust your thermostat. I did this from The Bahamas on a cruise ship through the WiFi! Even if you're already in bed for the evening and you forgot to adjust the temp, if you have your phone nearby you don't even have to get out of bed. Because Nest is a smart device, it's eco-friendly and will save tons of energy which means you save tons of money and help the environment the process. Nest will email you a monthly report giving you energy usage stats and will actually tell you how down to the hour how much energy you are saving. Our first energy bill after installing our Nest was $40 less than what we spent the previous month! And to prove it wasn't just a fluke month, we have saved just about the same amount every month since then. It's incredible! Out of all of the products in this post, this one is the most practical and will save you the most money. Nest also offers other household products such as Nest Protect Smoke and Carbon Monoxide Alarm and Nest Security Cam.
If you're not a huge coffee drinker then this one won't apply to you, but if you are… Be prepared to have your life changed! There are several versions of the Ninja Coffee Bar. We have the single serve, which works best for us because both of us drink one cup of iced coffee each morning. We don't want or need to brew an entire pot and waste the rest. That brings me to my second point — It has an iced coffee option! Yes, you can brew just one cup of iced coffee and drink it as soon as it finishes brewing! Have I blown your mind yet?? Not an iced coffee drinker? No worries, you can pretty much do anything you want with this magical machine. There is a steam wand and an option to brew a concentrated 4oz cup and add your steamed milk for a homemade latte. As if that wasn't enough to convince you that you need this coffee bar in your life, it's completely paper an plastic free. There is a reusable mesh cone filter and you don't need to buy paper filters or pods. I used to LOVE my Keurig. But when I found out how terrible they are for the environment, I was happy to make this switch. Now for that money saving part. I used to by iced coffee at Starbucks about 4 or 5 mornings a week. I drink iced coffee 90% of the time, so it wasn't as expensive as it could have been. It definitely added up though. Now about a pound of coffee a week is enough for each of us to have a cup every morning. That's on average $12-14 a week, whereas two iced coffees every day for a week from Starbucks would total up to about $45 a week, depending on sizes and taxes. Case in point, I'm obsessed with our Ninja Coffee Bar with good reason!
We got this for Christmas from my in-laws and oh my goodness, it is the coolest thing ever. Say hello to your new multi-tasking bestie! I turn this little guy on and let it do it's thing while I'm washing dishes, doing laundry, or writing my newest blog. Not even joking, it's running right now… Roomba can be operated via a smartphone app and you can even schedule it to start without you having to lift a finger. I would strongly suggest not letting Roomba run unsupervised with nobody home. You can let it run while you are in another room, just check on it periodically to make sure it's not snagged on something or caught in a weird corner. As far as I know it does not have an emergency shut off system, so if it were to get caught on something when nobody is home to check on it, that could be a pretty big hazard. Don't let that deter you though, just make sure you're running it when you know you'll be home doing other stuff. If you have a dog that sheds a lot, running this for about half an hour everyday cuts down the amount of pet hair you have to deal with! And if you're a mom, I know you have about a thousand other things you want and need to do other than vaccuum. Leave it to the Roomba!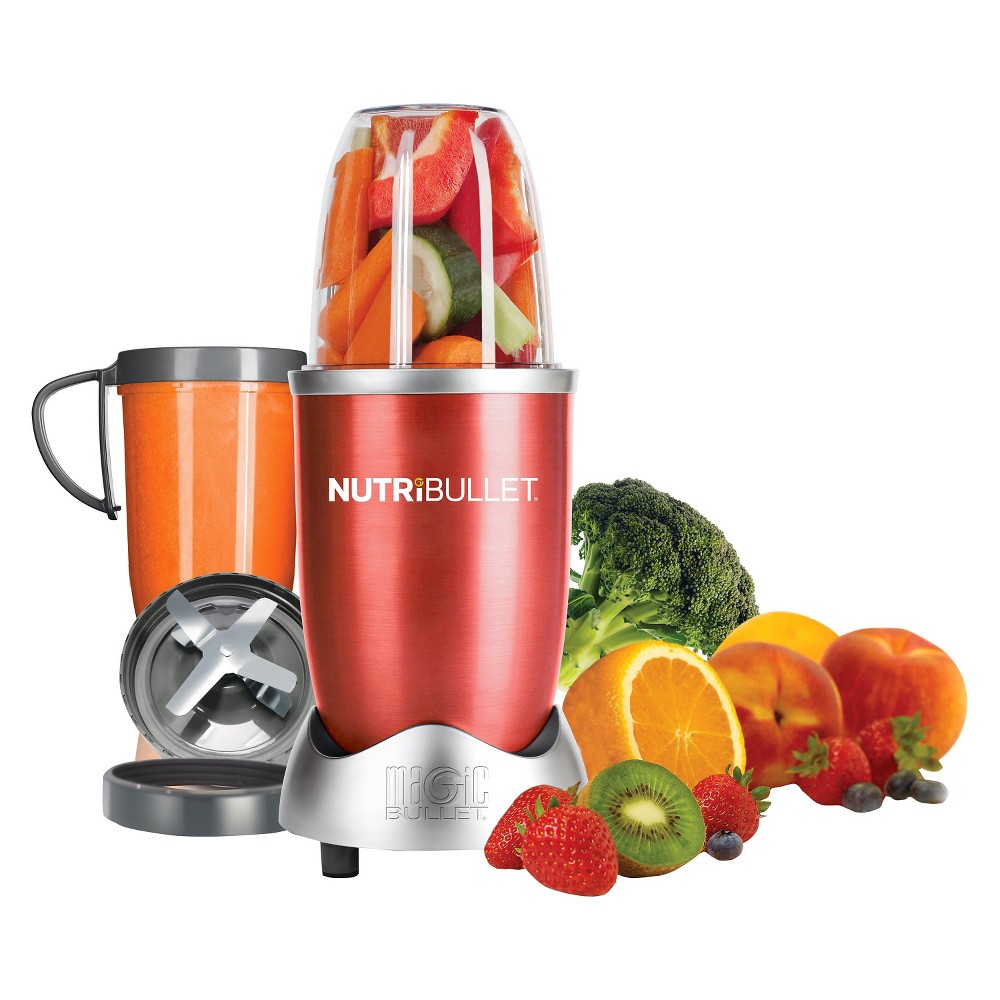 What CAN'T a Nutribullet blend?? I'm going to say that short of almond butter (I would use a Vitamix for that), a Nutribullet can blend just about anything you need it to, and the cleanup process is almost non-existent. It's so easy! Just a quick rinse of the lid and bullet and you're done. I would recommend rinsing it out immediately after use, otherwise it can be harder to clean if particles dry on it. I love making smoothies at home and I use by Nutribullet to blend my Daily Harvest superfood smoothies several mornings a week for breakfast. (TIP: Daily Harvest is a smoothie delivery service that sends you pre-made smoothies, all you have to do is add liquid and blend! So convenient and healthy and I'm obsessed! Use my link for 3 smoothie cups free!) This magical blender can break through seeds to help release their nutrients, and it can pulverize fruits and veggies into a juice (use a strainer to separate it from the pulp). I've used it to make hummus, avocado spread, soups, salsa, and so many other things! Bonus tip: There is a carrying case that is sold separately if you want to travel with your Nutribullet. When I travel for work and I'm gone for more than 3 or 4 days, I will bring it with me and make smoothies in my hotel rooms. If you do this, my other tip would be to stay in a hotel with a kitchen, or at least a room that has a fridge with a separate freezer. All you would really need then is your choice of milk and your favorite frozen fruits. I wouldn't even use ice!
So, this is the only product in this post that we actually don't own yet. I've heard so many amazing things about it though that I had to include it, and I want one REALLY bad. If anyone has tried it, let me know how you feel about it in the comments! Apparently you can make pretty much anything with it, and Pinterest is loaded with recipes, ideas, and hacks for using Instant Pot. We have a lot of red in our kitchen, and several red appliances. So, if we get one I want this red one! It comes in several different colors and there are cookbooks you can purchase separately with Instant Pot specific recipes.